SMART – EASY – FAIR
Three risk-free steps for success
| | |
| --- | --- |
| | Upload your pictures either directly or via EyeEm |
| | Create collections and categories |
| | Search uploads automatically and constantly |
Mark illegal
usages
Filter licensed
pictures
Whitelist whole domains
or single hits
Decide royalty
fees
Handover the follow
up to us
Lean back while we handle
the rest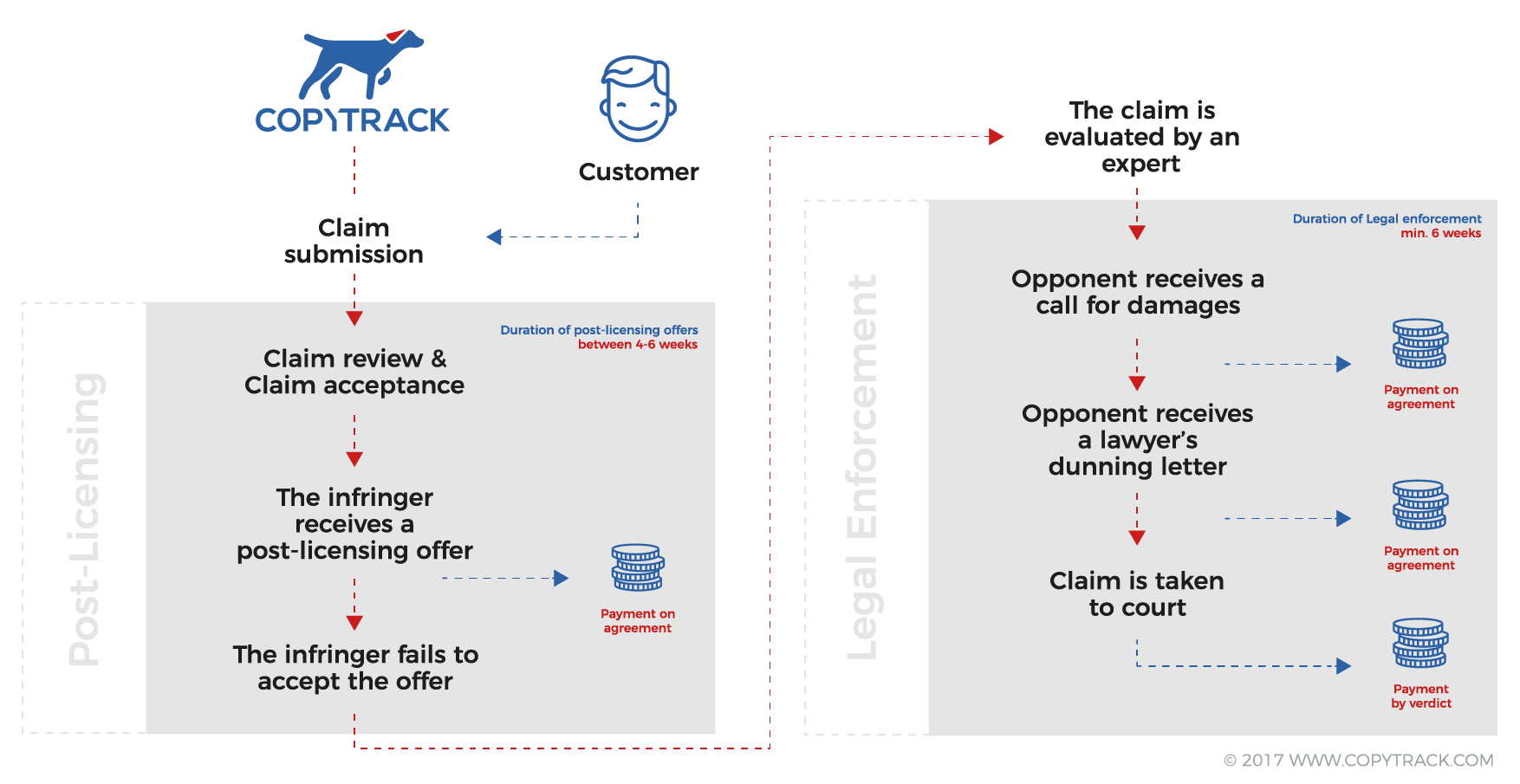 Submit Claims 
To start filter your results and submit claims for any image usages are illegal with just a few clicks. Whenever you submit a claim all the necessary evidence is then secured with the case submission.
---
Claim Review 
When claims are submitted our experts will then review the case, and make sure your claim is ready for the post-licensing process.
---
Post-licensing Offer
The user of the image will now receive a friendly request to provide a valid license or the option to acquire one. In order to increase your chances of success, we have set up an easy-to-use agreement online portal. Through our Settlement Portal we are able to help image users in over 12 languages around the clock.
---
Offer Not Accepted
If the image user does not react or does not accept the offer, we kindly contact the user again within 2-3 weeks with a reminder and further actions.
---
Calculation of Damages 
If a post-licensing has failed our team will calculate the cost of damages, and the case will be moved into the next stage- the commercial dunning procedure.
---
Call for Damages
The image user receives a claim for damages by mail and has lost the opportunity to buy a post-license.
---
Warning From Lawyer
If the claim for damages is not settled within the allotted time limit, the image user receives a lawyer's warning.
---
Case Is Brought to Court
Should all previous measures be unsuccessful, we take legal steps together with our partner attorneys to bring the case before court.
---
Our experience has shown it takes time from first contact to the legal enforcement. Nevertheless, our actions are always risk free, and 100% free of charge. Only in the event of a successful case does COPYTRACK retain a reward.